Free Wi-Fi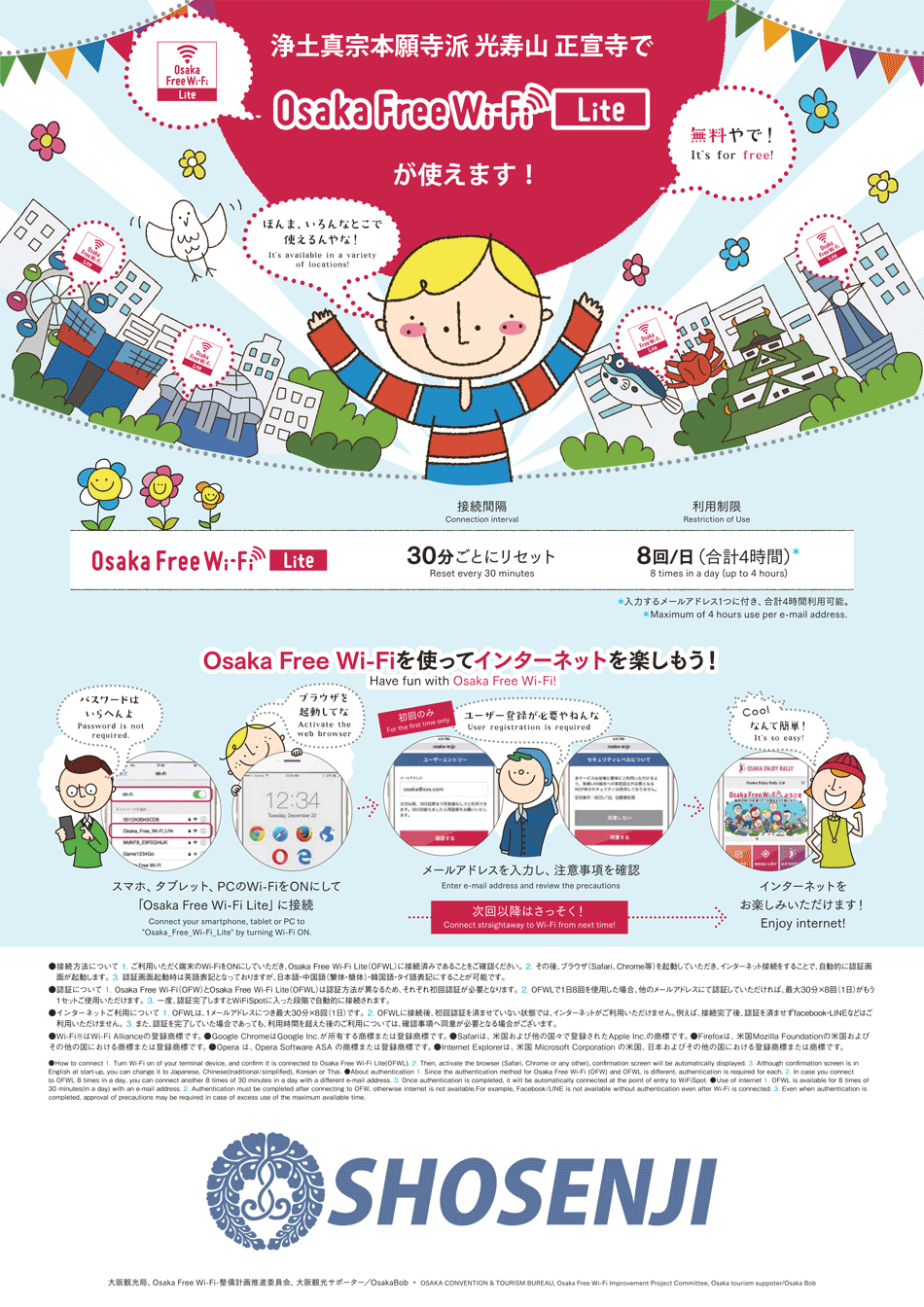 Free Wi-Fi (Public wireless LAN service) is available at our facility.
You can probably connect to Free Wi-Fi on the alley in front of our facility. Please be careful not to disturb passersby and neighborhoods while using Free Wi-Fi.
Available Wi-Fi services

Osaka Free Wi-Fi Lite (Provided by Osaka Convention & Tourism Bureau)


SSID

Osaka_Free_Wi-Fi_Lite
DoSPOT (Provided by NTT MEDIASUPPLY)


SSID

DoSPOT-FREE
FLET'S SPOT [Paid members only] (Provided by NTT-WEST)


SSID

NTTWEST-SPOT
Available terminals
Wi-Fi service can be used with certified terminals that meet the technical regulations conformity certification of Japan. Please note that use of uncertified terminals may be illegal.
How to use Free Wi-Fi
You can connect by using Free Wi-Fi Connection App.
Japan Connected-free Wi-Fi (Provided by NTTBP)
KANSAI Wi-Fi(Official) (Provided by KANSAI Tourism Bureau)
About Us
Shosenji (正宣寺) is one of the buddhist temples of Jodo Shinshu Hongwanji-ha (浄土真宗本願寺派) in Osaka, Japan. This is the religious facility for believers, not a tourist destination. Everyone can visit our facility only when worshiping at the 1st every month (except January).
Please watch Jodo Shinshu Hongwanji-ha Official Site about teachings and history of our religion.
We don't give worshipers a goshuin (御朱印). Please understand.
We are not Aikido Toyonaka Shosenji Dojo. We have nothing to do with Aikido school.
Access
Osaka Metro

Tanimachi Line
3 minutes walk from

Nakazakicho Station (Exit 4)
Hankyu Railway

Kobe Line

Takarazuka Line

Kyoto Line
9 minutes walk from

Umeda Station (Chayamachi Gate)


Senri Line
9 minutes walk from

Tenjimbashisuji 6-chome Station (Exit 13)
West Japan Railway (JR-WEST)

Osaka Loop Line
12 minutes walk from

Temma Station


JR Kyoto Line, JR Kobe Line

JR Takarazuka Line
13 minutes walk from


Osaka Station (Midosuji Gate)